I am a choreographer, dance teacher, and empathy/movement facilitator.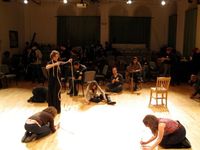 I see myself as an alchemist, creating live performance that allows the audience to become an integral part of what transpires. This could mean writing hopes and fears onto jumbo shoelaces which are incorporated in real time into performance and community workshops.  This could also mean inviting the audience to move on stage, following the path the dancers have just traversed. 
Dance Theater illuminates that which is felt and sensed. It is the playground of visceral inquiry, where movement, language, music, design, ideas, and emotions meet.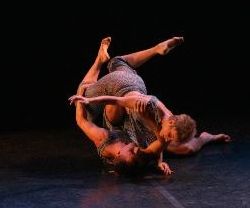 "How would it be to live at a lighthouse? Alone, at a lighthouse, guiding glassy light. Would you learn the contours of the waves like you learn the contours of your body?There is no rest, for the beam of the lighthouse. There is no rest, for those water molecules. Molecules. Little orbs connecting. Hydrogen and oxygen. I want to be hydrogen. Then there would be more of me."  (From Hydrogen and Oxygen, first performed in 2002).
Dance is what happens when prayer is not confined to words.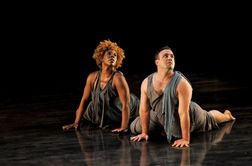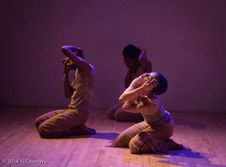 Photo of Deirdre Smith Gilmer and Jon Zimmerman in Hydrogen and Oxygen by Arthur Donowski, photo of Desira Barnes and Ryan Leveille in Hineni (Here I am) by Lexi Namer, photo of Kyra Ferguson, Micah Evans, and Eliezer Quarless by Yi-Chun Wu.