Sasha Soreff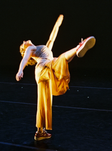 Sasha Soreff is a New York City-based choreographer, empathy/movement facilitator, certified transformational coach, and cancer journeyer. 
As an empathy/movement facilitator, Sasha weaves somatic movement, relational neuroscience, and transformational principles together in support of healing.  Through this, workshop participants experience compassionate self-connection and soulful, embodied expression.  
As Artistic Director of Sasha Soreff Dance Theater, Sasha has created and shared multigenerational, participatory work on stage and in community settings for more than twenty years. SSDT's work has been seen in performance by students at the Ailey School, on tour in the North Country of New York State, at the Queens Museum of Arts and The JCC in Manhattan.  Other venues include University Settlement, where the company was in residence for the 2013-2014 season, HERE, Dixon Place, the Flea, Long Island University, the Harlem Childrens Society, and WNET television. Audience members have participated in the creative process and performances, whether it's inscribing hopes and fears on jumbo shoelaces or walking the path of the dancers on stage.  Sasha has also worked with the renowned Roots & Branches Theater, which featured a cast ranging in age from 20s-90s, to create an original, interactive dance theater piece that delighted audiences throughout New York City.  
Sasha teaches at Gibney Dance and The International Partner Dance Intensive, and recently guest taught at NYU Langone's Initiative for Women with Disabilities.  She taught modern and student performance workshops at Dance New Amsterdam from 1999-2013.  She has served as a teaching assistant to kinesthetic anatomist, Irene Dowd, and has completed the Level 1 Teacher Training in Breath~Body~Mind, a series of breathing and qi gong practices that promote well-being. She was a founding company member of Isabel Gotzkowsky and Friends from 1998-2004.  During much of the pandemic, she has served on the Coordinating Team for Radical Movement, a weekly movement space for everybody and every body created by Sonya Renee Taylor (email sasha for the link! connect@sashasoreffdance.com).  
Sasha is a certified Transformational Coach, and soon-to-be certified Resonant Healing Practitioner.  For more details, click here.
A Maine native, she graduated from high school at North Carolina School of the Arts and received a BA from Barnard College.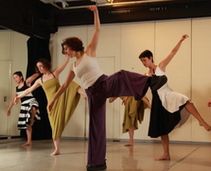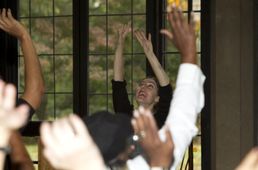 photos of Sasha teaching by Paul Taverna and Judy Aiges, top left photo, from The Dancer Who Wore Sneakers and Other Tales, by Gannon McHale